In 2017 I finally snapped. I wanted to know how to become a digital nomad and realistically achieve my dream of becoming a full-time travel writer.
My social media feeds are full of guides, gurus and other success stories, all trying to sell me courses on how to achieve similar results. I've explored a few of them and signed up for a million and one email lists. I receive more daily 'promises' of greatness in my inbox than most people have hot dinners.
If I signed up for every course/offer/deal I've received in the last week I've probably spend more than Trump in the 1980s
I'm not selling anything. In this guide you won't find any demands for money or upsells, only information. It's all honest, tried and tested information that I've used to leave my job back in Manchester, UK and become location independent (471 days and counting).
I've been working with an amazing company called Worldpackers. They offer work exchange projects around the world, from NGOs to teaching in local schools to hostels to permaculture farms and almost everything in between. Aside from the volunteering I've also written several articles for them, which I'll be referencing here.
What is a digital nomad?
For those of you who've never heard the term or are unsure of the actual definition, Wikipedia defines it as the following:
Digital nomads are a type of people who use telecommunications technologies to earn a living and, more generally, conduct their life in a nomadic manner.
Sounds pretty fancy, but it basically means anyone without a fixed home who works through their laptop.
The dream that's sold is of people sipping cocktails on a tropical beach, laptop out but not switched on, their phones beeping constantly as they get richer and richer.
While this may be the case for some, I'll happily burst that bubble. Although I do enjoy a good cocktail, I'm also putting in 8-10 hour days, usually glued to the laptop. I work!
The jobs available to nomads are limited only by your ideas. You can work for yourself as a freelancer or with an established company working remotely. According to Flexjobs.com, current remote work jobs include:
Medical Records Translator
Human Resources
Equine Regional Support Pilot Coordinator
Architectural Photographer
Facial Animator
Law School Curriculum Writer
Scavenger Hunt Editor
Obviously you need the skills required, but hopefully that goes to show that the term Digital Nomad doesn't just apply to Instagrammers, Youtubers or humble Travel Bloggers.
If you choose the Freelance route then you can be a writer, graphic designer, editor, photographer, teacher, translator etc. Another classic is Dropshipping. This requires no physical stock, only an online store and the skills to advertise it.
You can read my full article about our own journey, pitfalls and hurdles here where I delve into what makes a successful digital nomad and dispel some of the myths.
How to quit your job and start travelling
Now that you know what a nomad is and are loving the idea you'll want to think about the practical steps needed to make it a reality.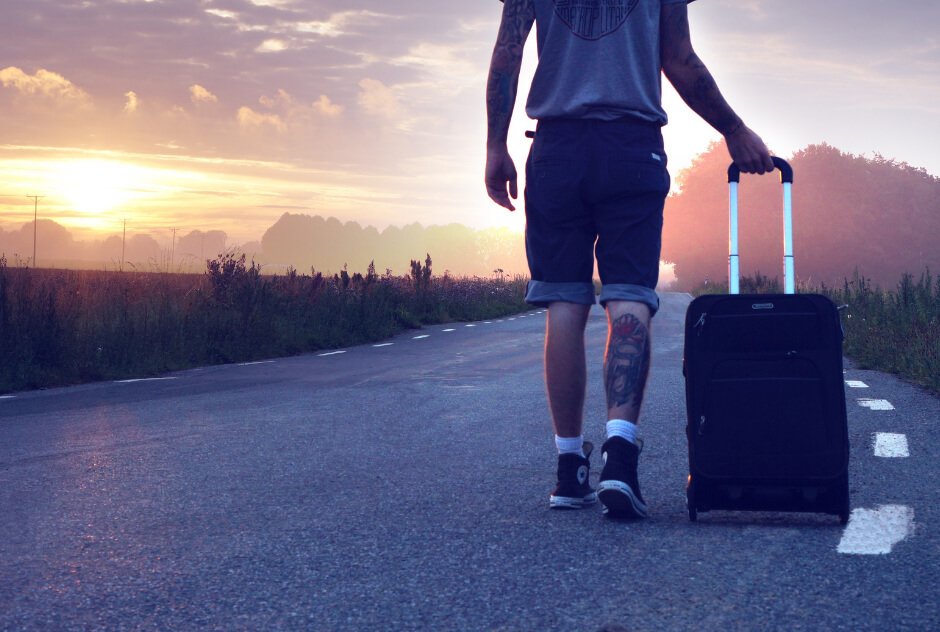 Having a dream is a fantastic start, but it's also pretty handy to have the blueprint or roadmap to get from A to B. I fumbled my way through, initially spending small fortunes on useless courses. The industry of creating courses to teach people how to be a nomad is growing like wildfire, but you don't really need them.
Anyone can do it, but not everyone is willing to do it. Our antiquated education system is designed to discourage it completely. Sit in silence. Follow instructions. Pass the test. Repeat. Get good grades, get a good job and settle down.
At no point do they mention the possibility of wandering the planet as a Scavenger Hunt Editor or Equine Pilot. If they sold that dream in schools I bet attendance levels would skyrocket!
So the first step is making the decision to do it. The best way, in my humble opinion, to truly commit is to buy the ticket. Before you know where you're going, what you're going to do or how you're going to do it.
Buy the ticket! Mentally and financially commit.
Once you've done that then it's time to get serious. You'll need to start pricing up how much this is going to cost you. You'll be moving around, so there's no 'one budget to rule them all'. It's best to start with general numbers, then tweak it as you move around.
Head over to Numbeo and Nomadlist for an idea of the cost of living around the world.
This is also where Worldpackers really shined for me. The most expensive travel costs are transport and accommodation. Why not trade your skills for free accommodation? Search through the list of hosts on Worldpackers for both inspiration and potential projects. If something catches your eye then grab a yearly membership ($49 as of May 2019) and get applying.
Having worked in several locations, spoken to other volunteers and chatted often with their staff I can confirm that they're passionate about what they do. They're all serious projects and you'll be required to work for your bed (and often free meals), but they're all vetted and you'll have a fantastic support team behind you.
Now it's time to sell all your earthly possessions and flee the country. Be savage and sell/donate anything that isn't nailed down. Trust me, you don't need it.
You'll need your laptop (and other technology depending on which profession you pursue), clothes for your chosen climate and insurance (I recommend Worldnomads). There's very little else you'll actually need.
Take this time to brush up on your language skills. You can check out the best language learning apps of 2019 here. Fluency is nice but takes time. At least aim for a basic understanding and enough for pleasantries and emergencies. The apps I cover in the review will certainly help you achieve that.
Read my full article where I go into even more detail about how to quit your job and start travelling.
Now that you've nailed all the basics, it's time to start working on the nuts and bolts of being a digital nomad.
How to travel the world full time as a digital nomad
The difference between just taking a holiday and actually being a digital nomad is the fact that you'll actually be working. You'll need to own, run, manage and do customer support for your own business.
That may sound terrifying, but it's part and parcel of being a digital nomad.
Depending on which path you choose, you're going to be busy. You need to keep your skills sharp and always be learning. If the Google algorithm changes and suddenly traffic stops going to your website, you'll need to adapt. Dropshipping niches change overnight so you constantly need to find the next big thing.
There are very few 'passive income' streams. There are plenty of things you can do to receive future income without constant maintenance, but they require a lot of work upfront to get to that stage (writing an Amazon #1 Best Seller could be one idea).
Create a blog, make sales through affiliate sales, create electronic products, run a podcast and sell advertising space, make and monetize Youtube videos. These are all things which will require an initial output of time, but which can then pull in money for weeks, months and years afterwards.
You can either put all your eggs in one basket and bank on one job or have multiple income streams. I prefer the second option. If one stream dries up then you're not left broke and without money coming in.
If you don't want to create anything to sell then sell your services on one of a hundred Freelancer websites. Some of them include:
Keep in mind that there's plenty of competition on these sites, so you'll need to be thick skinned and persistent. Don't be discouraged if you don't succeed with your first few pitches. The more you do, the better you'll get.
Depending on your niche there are hundreds of other job sites. Graphic designers, translators… search for and sign up for as many as you can and check them regularly. Persistence is key.
Read my full account of how to travel the world full time in my Worldpackers article here.
Where are the best cities for digital nomads?
Knowing what to do and how to do it is one thing, but where do digital nomads live? Where do they go?
The short answer is anywhere they choose. As long as you have a plug socket and a reliable internet connection, you're home.
But not all places are created equally. If you have a great connection but everything is crazily expensive then that's no good. If you have a great connection, cheap cost of living but it's a miserable corner of the world with nothing to see, nothing to stimulate you and you're miserable… that's also not very good.
Luckily I compiled 2 lists to help you. The first is the best cities for digital nomads. This is a list of 15 cities with great facilities and resources specifically for digital nomads.
Canggu, Bali
Buenos Aires, Argentina
Chiang Mai, Thailand
Mexico City, Mexico
Medellin, Colombia
Budapest, Hungary
Krakow, Poland
Lisbon, Portugal
Tbilisi, Georgia
Prague, Czech Republic
Ho Chi Minh City, Vietnam
Tenerife, Spain
Sofia, Bulgaria
Barcelona, Spain
Estonia
You'll find excellent co-working spaces with great wifi, a robust nomadic community and enough stimulation to keep you busy for months.
I go into detail on each and every one of them in my Worldpackers article about the best cities for digital nomads. Knowing there are plenty of people out there in the same boat, with the same goals and ambitions and who are willing and ready to collaborate can take a great weight off your shoulders.
You are not alone!
But won't flying out to these places break your bank? Not at all!
How to find cheap flights
As I mentioned earlier, the 2 most expensive parts of travel are accommodation and transport. We've already covered how to reduce your accommodation costs massively by doing a work exchange. Now it's time for the flights.
For me, it's the least fun part of the adventure. I just want to jump on the first plane available and get started, but that's not always the most sensible plan.
Every penny you save on flights is another day, week or month you can continue travelling. Or maybe it's the difference between an advertising budget or an investment in a product.
In my Worldpackers article I outline the 10 techniques I use to find cheap airfare any time of year.
The main thing is flexibility. The more flexible you are, the cheaper it will be. Fact.
If you're absolutely determined to travel on one set day to one set location then you'll need to hit the red-eye flights and try and make use of as many reward programs as possible.
One thing I've never been so good at, but which I'm determined to improve on is travelling as light as possible. Cut out the luggage costs for big savings. You'll save not only money but time if you travel with only carry-on luggage.
There are a million and one videos and tutorials out there for how to cram all your essentials into the smallest bag possible, so start researching today.
If you've ever gazed out of the window and dreamt of something bigger, better and more exciting I can tell you that it does exist and it is achievable.
If you're happy at home then all the joy to you. But if you have the itch to go explore the great unknown, hopefully you now have an idea of how to scratch it. Hopefully the world is now a little bit smaller and less daunting.
If you require any help, additional information or clarification on anything discussed above then please drop me a message in the comments below.
All the best on your travels.