The Brazilian Roadtrip was officially underway! In the last post we explored Ilheus (if you've not read that yet, it's a good, solid start. We learnt about juice and witchcraft… you can't miss it!
[wpgmza id="1″]
Next stop: Itacaré (pronounced Itacareh)
I knew this was going to be a special place, as every time Carol spoke about it she got a crazy happy spark in her eyes… and when we arrived, I had too!
70km north of Ilheus, the town was a notorious hangout for Dutch and Portuguese pirates during the early colonial period. Good choice pirates… good choice. Nowadays the clientele are a little more civilised.
Before the 80s Itacaré was all about the cocoa, but after a blight wiped most of it out they switched over to tourism. I think this late change helps to explain how it's retained much of the natural beauty, and why it's not been over-developed… yet. Ecotourists, hikers, beach bums and surfers… if you're chilled out, you're welcome.
We'd booked the Airbnb, and although it wasn't super duper cheap (£21.62), it promised a beautiful view looking out over the bay… and it delivered.
For complete transparency, if you use our Airbnb link, you'll receive £25 in travel credit when you sign up, and we'll get £15 credit too… winner winner chicken dinner!
As you read in our earlier post, Hiking in Itacaré, it's not just a beach town. There are some crazy beautiful hikes full of waterfalls, mangroves and bees that like to bury themselves in your hair (Carol still hasn't got over that trauma). (R$90)
Never ones to sit around, bronzing in the sun drinking caipirinhas, it was onwards to our next challenge:
Paddleboarding! (R$60)
Carol is already a ninja of the seas, so she was up and celebrating in minutes. She has a grace and an elegance of someone born on a board. No falling, no flailing, no primal groans as her legs were seizing up from the constant mini-squat position.
And then I had a go.
Although I was born on an island, and through DNA testing I found I have 1% of Pacific Island genes, the other 99% is like a weeble. I'm not entirely sure how, but my centre of gravity appears to be in my ankles.
The tiniest little wave… boom! It's splashdown time!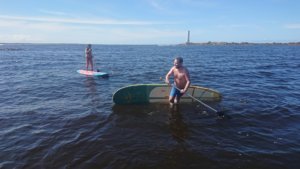 I eventually got the hang of it, and managed a good minute of solid paddling… but wow is it hard! I developed a completely new level of respect for anyone who just jumps on and glides effortlessly across the water. Kudos to you!
Nighttimes in Itacaré are as tranquil as you like. Carol is a vegetarian, so it took a bit of shopping around, but we found a fantastic vegetarian Arabian Restaurant, Alamaim (R$80).  Lovely staff, and their caipirinha was almost as good as mine! (You can learn to make the perfect caipirinha here)
Unlike Rio or Sao Paulo, wandering the colourful streets at night felt incredibly safe. Arts and crafts, chocolatiers and souvenir shops… if you have a few R$ to spend and want something unique and colourful, you'll be in heaven.
The weather was perfect, the people are super-friendly and the beaches are divine. You absolutely need to add Itacaré to your Brazilian roadtrip!
I imagine in the heart of summer it would be over-crowded and a little intense, but April was perfect.
So how much have we spent in total so far?
Bus to Itacaré: R$30
Airbnb Itacaré: £21,62 (RS100)
Guided hike to the beach, waterfall and mangroves: R$90
Lunch during the day at the beach: R$80 (expensive fish, but delicious)
Paddleboarding: R$60
Arabian dinner and ice cream: R$80
Total: R$440 (£89)
And what have we learnt so far?
Doing awesome fun things costs money.  We could have cut that budget by half, but it would have been a much quieter, less exciting time… and sometimes you need laughter, adrenaline and belly rubbing to remember why you do what you do.
Itacaré is STUNNING!
Vegetarian food can actually be quite tasty.