After the stunning natural beauty of Itacare and the small town vibe of Boipeba, for the next stage of our roadtrip we decided to change our focus away from the beach and back to civilisation. For this, we headed to the capital of Bahia state (from Boipeba to Salvador = R$104 for the two of us).
Salvador
Salvador will always be burnt into my mind as 'The colourful city'.
It's also known as São Salvador da Bahia de Todos os Santos, which is indeed a mouthful, so let's stick with Salvador.
For a city so colourful, it has a dark past.
[wpgmza id="1″]
The first capital of Brazil and one of the oldest colonial cities in the Americas, it was also the first slave port.
Brazil imported more African slaves than any other country. An estimated 4.9 million slaves were brought to Brazil during the period from 1501 to 1866. To add perspective to that number, that's almost the entire population of Norway (or for my American readers, the entire population of South Carolina)!
This became all the more real when we visited the Pelourinho district. Such a multitude of colours that it fills your heart with happiness when you walk into that square… but 500 years ago it was anything but joyful. This quote is from The Rio Times:
Home of the first slave market on the continent, Pelourinho, meaning pillory, was named for the heinous whipping post in the central plaza where African slaves, brought in to work on sugar plantations, received public punishments.
Whilst looking around the 360 shot above you may have spotted someone famous. No? Look again.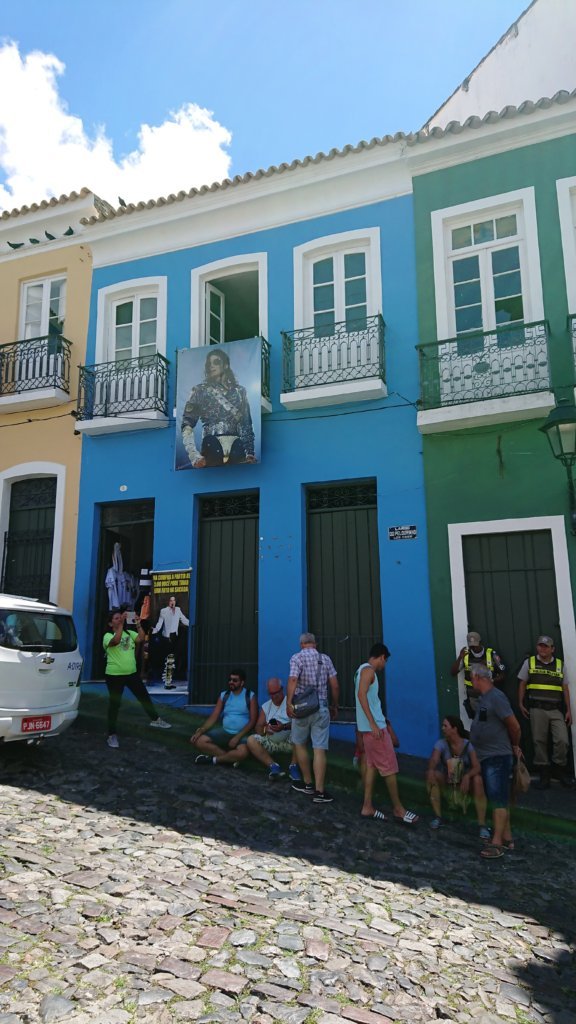 What an odd place for The King of Pop to show up you may be thinking. Well, it's all related.
"In the 1990s, a $100 million restoration effort resulted in the removal of over 4000 mainly Afro-Bahian residents and the conversion of a once-vital neighbourhood into a pastel-hued tourist attraction." (taken from Wikipedia)
This new 'pastel-hued neighbourhood' is now the central tourist hub for Salvador. It features museums, local art, and was named a world cultural centre by UNESCO in 1985.
Michael Jackson brought a whole lot of controversy to the town when he recorded the song, "They don't care about us".  Written to raise awareness of social injustice, it was shot in Salvador and Rio de Janeiro. "The media interest surrounding the music video exposed Olodum (the 200 strong local cultural group featured in the video) to 140 countries around the world. It brought them worldwide fame and increased their credibility in Brazil". Again, thanks to Wiki.
You can regularly find bands playing in the square, and you get a real flavour of the African roots and heritage.  You can also find amazing Acarajé!
Acarajé
Pronounced AcaraJEH, the recipe was originally brought by the West African slaves, and the Brazilians welcomed it with open mouths.
You can find the recipe at www.cynthiapresser.com and I would encourage everyone to eat at least 10 of these in their lives before they die (maybe not all at once though, or the end might come quicker than expected due to them not being the healthiest of foods). Black-eyed peas, onions, lots of oil and stuffed with Vatapá (Coconut Milk and Dried Shrimp Stew).  By the beard of Zeus that's a taste explosion in the mouth! It's also a masterclass in elegance to eat one gracefully, or maybe I was just a little too excited and ended up with a beardful of tasty goodness. And costing just R$5 each, you'd be crazy not to try one.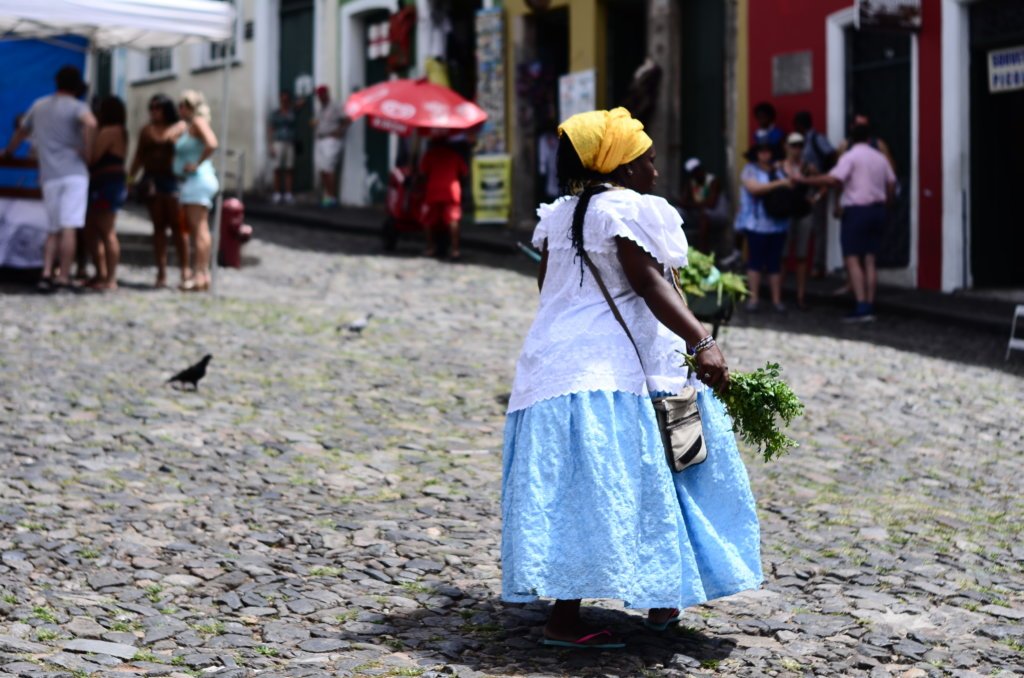 Before saying goodbye to the Baianas (the ladies of Bahia who wear the amazing traditional dress) it's worth popping into the Fundação Casa de Jorge Amado. You may remember that name from when we visited his house in Ilheus. This is much more of a museum and you can view the entire breadth of this work. Entry is R$5 each, so it's a no-brainer to absorb a bit of the local culture.
After spending more time with good ol' Jorge, we wandered a few minutes down the road to visit Brazil's first ever elevator… the Elevador Lacerda! Who doesn't love a good elevator? Well back up there Geekatron! This isn't any old elevator.
Elevador Lacerda
Originally created by the Jesuits in 1610 as a rope and pulley system, it's undergone a facelift or two to create the trippy art-deco creation it is today. Don't forget to walk around when you're at the top. Don't just queue up and come down. Walk around the back of the queue to the end of the building as the panoramic view from the top is pretty special.
The elevator takes you down to sea level (and costs just R$0.50 for both), and straight to Mercado Modelo, which claims to be the largest handicraft market in Latin America. If 'handicraft' includes fake Manchester United and Barcelona football shirts, then I'd totally agree! It also has lots of awesome stuff, like traditional dresses, pots and clayware and some amazing homebrew cachaca! If you're in Salvador, you should go. You could easily spend an hour or two wandering the endless corridors. The view from the restaurants above is eye candy too.
Museu de Arte Sacra
Fancy a bit of culture in your eyeballs? The Museum of Sacred Art didn't initially sound like my cup of tea. I love ancient architecture, paintings and sculptures… but religious art can be a bit dry for me.
It's a little one trick pony for my taste. That being said, I'd genuinely recommend a look around this museum if you've got a few spare hours. It has a nice mix of the dry and interesting.
It's set back a little from the main road, and in Salvador that's never a good thing. It's not the safest city in the world, and so you generally want to stick to the main streets. We had no trouble as it was the middle of a busy day but if you have any doubts, take a taxi.
The main building is church/covenant, with lots of varied exhibitions spread around the premises. Paintings, sculptures, unusual collections as in the photo… it has enough to keep you wandering from room to room.
We arrived late (entry is R$10 or R$5 for students), so were hurried around a few rooms to make sure we didn't clock up any overtime for the clergy. This may explain why were the only ones there but, as I've read in other Tripadvisor reviews, the remote location and lack of promotion means you'll hardly be fighting through throngs of peopleto view the pieces.
Fascinating Fact: From the 146 windows of the Museum of Sacred Art you can see the entire Bay of All Saints, from Itaparica Island to Maré Island.
Forte de Santo Antônio da Barra
After a few days surrounded by people <<insert shudder here>> the call of the sea was too strong, so we had to explore the salty goodness.
It's a really pleasant walk along Avenida Sete de Setembro to the Bahia Naútico Museum. The first Portuguese building erected in Bahia in 1501, it's looking good for its age. For all the fear of Salvador being dangerous, we felt perfectly safe wandering the coastline.
After the gentle walk you've got a choice of beaches and a handful of restaurants, and it seems far far away from the tourist bustle of Pelourinho.
Fascinating fact: This is one of the many routes the street carnival takes every year (Knowledge bomb! Carnaval is not just in Rio!) Trio Eletrico (think of a party bus on steroids, crack and helium combined) drives for 4.5 km with an unrelenting, inexhaustible crowd of people in tow from Oninda beach until Barra Beach. Have a look:
It would be one hell of an experience! A tad claustrophobic perhaps, but if you can't stand the sweaty, heaving, oppressive lack of personal space then I'd surmise that Carnival isn't for you.
Back to our own (much more tranquilo) adventure, our Airbnb was a little bit out of town, which was no bad thing. It set us back R$134,88 total plus R$6 for the bus ride in and out of town.
For complete transparency, if you use our Airbnb link, you'll receive £25 in travel credit when you sign up, and we'll get £15 credit too… winner winner chicken dinner!
If you're exploring Brazil then I'd say Salvador is an absolute MUST. You won't need weeks in the centre, but I'd say to get a true taste of the African tradition, flavour and influence then you'll absolutely want to add it to your itinerary.
So how much have we spent in total so far?
Bus to Salvador: R$104
Airbnb in Salvador: R$134,88
Bus into town: R$6 per day (x3)
A juicy dinner in an Italian restaurant: R$74
Entry to Jorge Amado museum R$10
Acarajé: R$5 (x2)
Total – R$350.88 (£70.42)
And what have we learnt so far?
Even after such a horrendous start, Salvador still has a strong, warm glow.
I need more Acarajé in my life (and you do too)
Choose your time wisely when visiting Salvador. If you want action, Carnaval time is between January and March. April and May are much calmer and you still get glorious weather (although we had to hide from a particularly savage rain shower after the trip to the lighthouse)