We now had over 2000km of Brazilian soil under our belts. The idyllic beaches of Ilha de Boipeba, Itacare and Porto de Galinhas were still swirling around our heads, alongside the rich history of Salvador and mini Jesus of Ilheus.
But we had no time to sit and reflect. The clock was ticking and the budget dwindling… it was time to push on further north… to the capital of Pernambuco state: Recife! (Bus from Porto de Galinhas to Recife: R$26)
[wpgmza id="1″]
Recife
According to Wikipedia, "Recife is the fourth-largest urban agglomeration in Brazil"………….. now I could guess what that meant, but can we all just stop for a second to acknowledge what an awesome (and underused) word agglomeration is?
Let it roll around on your tongue for a while…… agglomeration…… (definition: Noun – a mass or collection of things)
And now back to Recife 🙂
I'd heard so much about Recife… beaches, technology, hospitals, shopping malls… yeah okay, that list kinda went downhill after beaches, but you get my point. I had the idea that it would be a sprawling metropolis, something akin to… Metropolis? (without the spandex)
We only had a few days in town so knew it wouldn't be the full experience, and as we'd just had a double dose of beach life we wanted to switch it up and see some concrete.
The first indication that this wasn't the home of the DC superhero was when we checked in to our Airbnb, deep in the Old City Centre. Rustic, a little rundown, but still full of character (R$150). The host was super friendly and thankfully warned us "not to cross the bridge at night as you may get mugged".
For complete transparency, if you use our Airbnb link, you'll receive £25 in travel credit when you sign up, and we'll get £15 credit too… winner winner chicken dinner!
To add a little perspective, Recife boasts the nickname "the Brazilian Venice". I thought this was a little bit of a stretch as yes, it does have a few canals/rivers but no, there are no singing gondolas and no stripy shirts… just canals.
To be told that there was only one actual relatively safe bridge to cross at night kinda soured the 'little Venice' vibe, but it's par for the course in Brazil… but it would come into play later in the story.

Marco Zero
While this does sound like it should be the name of a wrestling superstar, it's actually the spot where Recife was founded almost 500 years ago in 1537.
It boasts a bronze plaque on the floor, and is the standard meeting point for political rallies and Carnaval related mischief.
From here you're pretty close to a selection of galleries, restaurants and museums.  We managed to spend 30 minutes in Museu Cais do Sertao before it closed, and it was certainly eye-opening. The exhibition was celebrating the rich and diverse history of the city and surrounding areas, and also had a super trippy glass/light tunnel which made for an excellent 360 shot!
Also from Marco Zero (or KM0 as it's also known), you can take various boat rides, but by far the most interesting is the short ride across to the manmade breakwater to visit the Parque das Esculturas Francisco Brennand. The boat rise is super cheap (R$10) and takes around a minute. Once there you can look back for a clearer view of the city or, on the other side, you have the waves smashing into the rocks.
Throughout the sculpture park you find some 'interesting works' by Mr Brennand. Apparently he was rather fixated with his genitalia, and as such his artwork (some of it giant) reflects this in the most explicit way.
The showpiece is the 32 metre high Coluna de Cristal, which was deemed TOO phallic upon its creation, and so had to be toned down.
We spent our final day making the long journey out of town to visit Oficina Cerâmica Francisco Brennand… yep… not content with one eyeful of his erect creations, we travelled over an hour to check out his ceramic office! (R$8 for a bus and R$20 for a taxi, R$40 entrance and then a R$23 uber ride back at the end)
Note to any future visitors: Take an uber there and back! The bus ride is brutal! It feels like it lasts a few days, but it's probably only 40 minutes. It's hammered busy from start to finish, so except by a miracle you'll be stood the entire journey. The standing wasn't too bad… it was the combination of dripping with sweat, and then standing nose to nose with equally moist people the entire time. Not refreshing!
A little hesitant at first, it was actually really good!
It's a beautiful complex featuring lush grounds, a multitude of exhibitions and a creep souvenir shop.
I couldn't tell you the exact cocktail of drugs the guy was on, but he definitely enjoyed his work!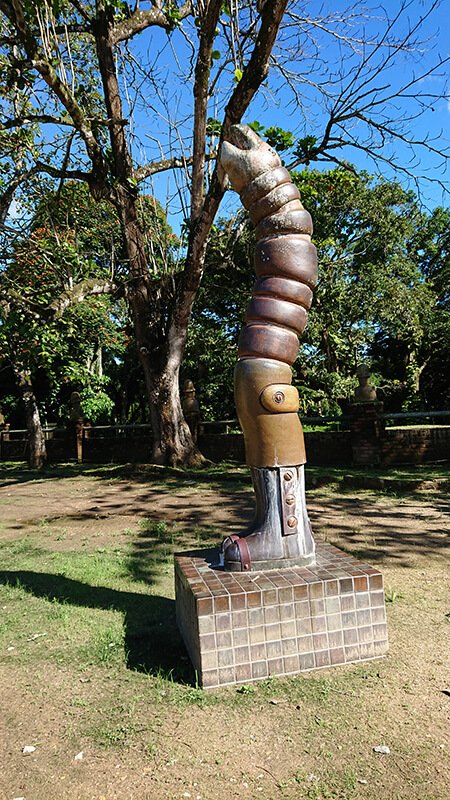 Some of it's fairly standard 'art'… but then the majority is just weird! Weird penis goblin mutant creation things…
But I guess this is what makes him a Brazilian legend.

What did we miss?
Our time is Recife was short, but I wouldn't want you to think that it's all just goblins eating their own junk.
No, I would be remiss if I didn't point out some of the other attractions of Recife.
It features some fine beaches, as is a major holiday destination for Brazilians and tourists alike. Snorkelling, scuba diving, surfing and living in constant fear of sharks is on offer should that float your boat.
Apparently this 20km stretch of coastline is statistically the most dangerous place in the world for swimmers and surfers. But how come? Just bad luck? Oh no no no!
In the 90s the government decided to build a huge harbour a little way down the coast. Knowing that the construction would impact 2 local estuaries, and knowing that these estuaries housed a Bull Shark spawning ground, they thought "what's the worst that can happen?"
Now what could make our newfound shark problem even worse? I KNOW! Let's allow slaughterhouses to dump their blood and waste straight into the river!
Chuckleheads!
But enough about the failings of humankind… let's get back to the positive!
Recife, and the neighbouring town of Olinda, are host to a spectacular Carnival every year. Described by friends as much more organic and traditional than Rio, it's also in the Guinness Book of Records as "The Biggests Carnival Parade in the World", with an average of 2 million people jammed into the city centre.
Unofficially starting in January, you'll be able to find free parties or 'previas' all around and the sound of a gazillion little gatherings can become overwhelming. Marco Zero houses a stage each year offering free concerts for all to attend.
Lather up on suncream, fluids and ridiculous clothes and you'll be laughing.
So what did we spend?
Airbnb: R$150
Boat: R$10
Bus to Brennand: R$8
Taxi: R$20
Uber: R$23
Meal: R$80
Total: R$291
So what did we learn?
Recife is a city of two halves. If you want the carnage, party and sharks… you're welcome to them 🙂 But if museums, nature and bizarre nightmare statues are more your thing, they've got you covered too.